Lori

Estados Unidos
The perfect place for a large family gathering, especially the roof garden and the downstairs courtyard.
3 separate suites, living room and fully equipped kitchen.
Could use an update in the King Suite bathroom and bedroom, and desperately needs new outdoor furniture cushions or better yet, new outdoor furniture in the courtyard. There's a broken lounge chair on the roof, too. Small things that could make a huge difference in the experience.
Mordechai was great...immediately attentive!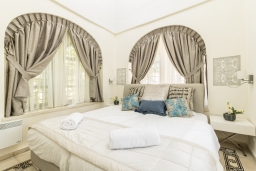 Chava's response:
I'm glad Laurie that you and your sweet family enjoyed our special villa.you're right the courtyard, the roof garden and the privacy of every suite in the villa make this house amazing!
Thanks for the comments ,we took notice and we took out broken furniture in the garden.
we will be happy to host you again in VILLA MAMILLA !