Apartement luxueux au coeur de TLV
, Tel Aviv-Jaffa

Entire Apartment
•
3 Rooms
•
6 Guests
•
2 Bathrooms
•
Ground floor with Elevator
Dans un bâtiment flambant neuf avec jardin privé vous trouverez un décor élégant et et de deux salles de bains.Il dipose de 2 chambres et de 2 salles de bains.
La cuisine entièrement équipée vous offre tous les ustensiles de cuisine de haute gamme tout ce dont chaque cuisinier novice a besoin.




Electricity is included, up to ₪18.0 per day
Dépôt de Garantie: ₪3,000
Politique d'annulation: Standard
Services
Overall Score:
9.3
Based on 34 reviews
Overall Experience:

9.7

Localisation:

9.5

Propreté:

9.1

Comfort:

9.7

Service des propriétaires:

9.3

Value for Money:

9.3
Our reviews are genuine
Only guests who actually booked an apartment using our website can post their ratings
Israël
A darling garden apartment! Could not have hoped for more .
Sujata

Inde
Really comfortable and pretty central. Bright and cheerful apartment with good modern decor. Lovely garden sit out and a super nice kitchen with some lovely gadgets. Don't miss the resident cat in the garden
No door in the bathroom of the master bedroom. Can be an issue for some ppl.
SCHANDO

France
Un havre de paix en plein cœur de Tel Aviv.
Tout est parfait jardin,deco,emplacement ...
Dan

France
the best place in tel aviv !!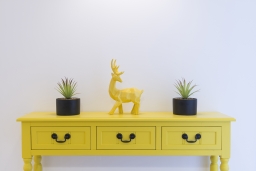 Ziv's response:
Always happy to host you Dan. Looking forward to your next stay. Shana Tova.
Alina

Roumanie
Beautiful terrace! Beautiful building.
The apartment wasn't clean. We found in the bathroom and in bed and in the livingroom : hair, dust and bugs.
The main problem of the apartment is the fact that you can hear any little noise from one room to another, meaning that even a private silent discution , or a sneeze you could hear to the living room. Or any noise in the kitchen could easily wake you up sleeping in the bedrooms.
I found it very strange not to have a TV in the living room and the only TV we have found in the apartment, in the main bedroom, it didn't work the entire time we stayed in (22.04-26.04) even if we have sent mesages to the owner to please fix it (the response was : it works for sure. It didn't.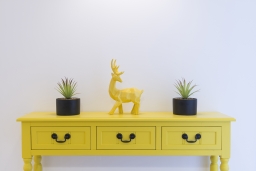 Ziv's response:
Hi Alina,

I'm sorry to hear about the cleaning only now, and not when you checked in to the apartment. These problems could be solved with in the hour.
Regarding the acoustics, there is not much to do now, but this is the first time I hear this about the apartment. There is only one TV in the bedroom, it's only a screen with no cable channels, as advertised. Gusts will usually use it to show movies ext. from there devices.
I hope you enjoyed your stay all the same, although these issues, and hope you come to Tel-Aviv again soon and maybe give us another chance.
Radion

Etats-Unis
Wonderful apt great garden
Yuri

Pays-Bas
Nice garden and perfect location. Very complete kitchen equipment.
Wasn't completely cleaned at arrival, but after contacting the host they immediately sent someone to clean it.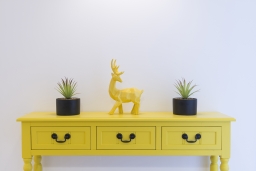 Ziv's response:
Glad you enjoyed your stay Yuri, sorry about the issue with the cleaning.
Patricia

France
I love it appartement
We don't have the mezouza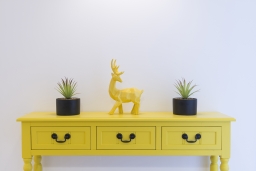 Ziv's response:
Thank you for your input Patricia, looking forward for a third time hosting you.

Edit

Hongrie
Nice big apartment, good atmosphere, very nice garden and excellent location. It has everything you need.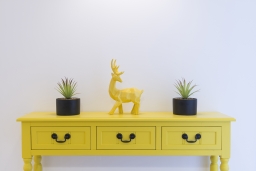 Ziv's response:
Glad to hear you enjoyed Edit, I'm happy that you stayed with us and hope to have you visit Israel and the city again.

Ezra

Etats-Unis
The apartment is very nice and a recommend 100%
The building is new and the location superb
Needs a Dryer, a door for the master bathroom and toilette paper holders in both bathrooms.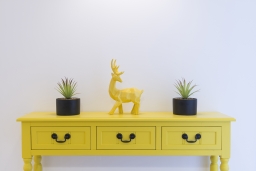 Ziv's response:
Thank you Ofer for your kind words, I hope to have you come stay with us again soon.
Mark

Pays-Bas
perfect appartment on a good location. good price.
no complaints, only one thing worth mentioning: we could not get the TV started. no problem for us, so we didn't mentioned it during our stay.
Daniel

Suisse
Very good location, quiet area, apartment well equiped and comfortable. We loved the beautiful garden with lemon trees and the comfy green chairs in the kitchen.
The garden is quite dusty and the dust gets inside. Some of the pans need to be replaced because they are scratched.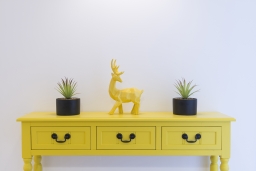 Ziv's response:
Glad to hear you enjoyed your stay Daniel.
We will see to the pans. Regarding the dust, we do what we can, although this has to do more with the season than with the cleaning.

Yoav

Etats-Unis
Marion

Allemagne
Nice new house in a quite street but only a few meters away from Ben Yehuda and the beach. Supermarkets, a very good Falafel, cafes and restaurants in 500 m walking distance.

The bed was comfortable. The bathroom was good and there had been enough towels, etc. WiFi was ok and the air-condition worked very well.
The apartment is a nice place for one person or a couple. But I wouldn't rent it with more than 2 persons.

One bathroom is next to the sleeping room and has no door, so you can't really use the toilette there if you sleep in this room with more than one person. The only tv screen is in this sleeping room and you can just watch tv from the bed.

There is no living room and not even a comfortable chair. The chairs in the kitchen are stylish but very uncomfortable.

The terrace is really nice and calm but there is always shadow from the other buildings. The suite direct in front of the kitchen is convenient but the other furniture outside are old and dirty.

I haven't found a kettle so I wasn't able to prepare coffee in the kitchen. I only found a microwave.

A lot of people already proposed to provide at least a small guide for the apartment. As nobody from the owner shows up and introduce you to the apartment.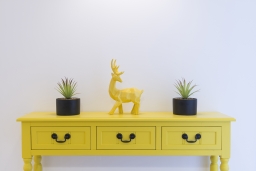 Ziv's response:
Thank you for your input Marion.
I'm glad you enjoyed the location.
We can not change the layout of the apartment for the time being but will add a guide for the apartment. Hope you come visit Israel again soon.
Ederhy

France
I love it ❤️❤️❤️
Appartement and garden: TOP
Great équipe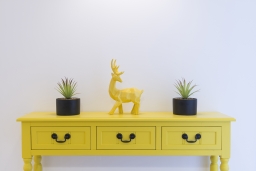 Ziv's response:
Glad to hear you enjoyed, hope to have you come visit again soon!

Judy

Mexique
Small, nice and modern.
Lacks a space where to hang out and be at the pick heat hours. The terrace is beautiful but could not be used in this time of the year. The weather was to hot.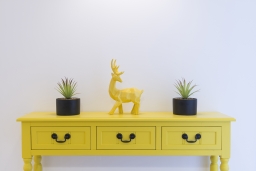 Ziv's response:
Thank you for your input. We are working on closing the outside and make it a bedroom with an additional room, until then, the outside will still be the sitting area.
I hope you come again once we renovate.
ekaterina

Russie
The apartment was just perfect , clean and I think better than on the pictures ! Building is secure and modern . Beautiful terrasse with a garden with lots of sun and shadow places . Perfect for vacation. Although I was alone ,I think apart is perfect as for solo traveler and two couples or a big family. Dima was always online on what's up and helpful. Hope I could stay longer .
Nothing
Jozef

Royaume-Uni
Perfect place to stay in very good location.
Meghan

Etats-Unis
NIFLA!

A wonderful apartment and a beautiful garden with privacy!

Thank you Ami and Dima
Arielle

Etats-Unis
BEAUTIFUL! It had everything we could need or want. The patio was amazing. Very close to the beach, very secure and very easy to access. Instructions were very clear.
No bad stuff!
DOMINIQUE

France
The best place in Tel Aviv !!!
Nothing !!!
Malte

Allemagne
Derrick

Etats-Unis
raphael

France
Marsha

Etats-Unis
Great place, location, new bathrooms, comfortable beds and linens, beautiful big patio is a plus!
No living room salon but really doesn't matter because of patio.
Laurent

France
Andrey

Russie
Всем рекомендуем. Все супер!!!
Talia

Etats-Unis
Amazing apartment - clean and modern. Beautiful bathrooms, comfortable beds, incredible location. Hosts were very helpful and flexible on check in/check out times. Would highly recommend!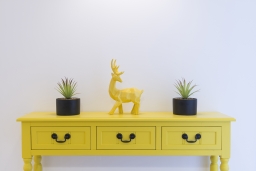 Ziv's response:
Thank you for your kind review Talia.
Glad to hear you enjoyed your time and hope you come visit the city again.
Dan

France
The best place in Tel aviv, Pour moi c'est le meilleur appartement de Tel aviv emplacement idéal à 5 minutes de la plage à pied , immeuble neuf , appartement magnifique propre et de qualité, Wifi , Machine à laver cuisine équipée, Parking et le Must : une immense Terrasse exceptionnelle avec des arbres fruitiers en plein cœur de Tel aviv : Le rêve !!!!!
Nothing !!
Irit

Etats-Unis
This was absolutely the perfect place. Great location, clean, modern with everything you need. Will be happy to rent again..:) love it!!!☀️
Marilyn

Royaume-Uni
Fab modern apartment in a great location. There is only one flat on the ground floor of the block and the garden wraps around the property on 3 sides. Quite shady, but that's a good thing in the Israeli heat. It's well equipped. We had a great stay. Would stay there again.
There is a TV in the apartment but it is not linked to any outside broadcasting, it is only available for viewing DVD's. The washing machine and microwave are all in Hebrew, which can be a bit hit and miss. There is no house manual, that would be useful.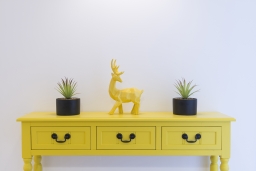 Ziv's response:
Dear Marilyn,
Thank you for the warm words.
The TV is now connected to a cable company.
we prepared an house Manuel in English.
Hope to see you again soon,
Frances
Not Specified
Modern, clean, quiet space so near the sea - delightful short stay. The patio is lovely.
Frances
Not Specified
Modern, well equipped with essentials for kitchen, plenty of cupboard space, good airconditioning and easy to live in. There is no owner's stuff around so it has the feel of a hotel. The surrounding large private pine wood patio with flowers and fruit trees is the main lounging area and a real joy.
There is a covered extension which is open to the patio and sparsely furnished.
Frances
Not Specified
The apartment provides an oasis of quiet and light in the bustle of a great cafe and restaurant neighbourhood, five minutes walk from the sea. The apartment is surrounded on all sides by a charming wooden deck lined with citrus trees. The two bedrooms, each with its own shower and toilet room, and the kitchen/ bar are all beautifully modern and pleasant to use. We had a delightful stay and can definitely agree to the use of the word exquisite in the promo.

The apartment does not yet have an indoor living room(which will be in an extension) so sitting and dining are at the bar or in the very comfortable sitting area on the deck.
Général
Climatisation
Lit de bébé
Balcon
Children Friendly
Sèche Linge
Ascenseur
Fireplace
Jardin
Sèche cheveux
Chauffage
Fer à repasser
Draps et serviettes
Open View
Parking (Private)
Pets Allowed
Mer / Vue sur la rivière
Smoking Allowed
Machine à Laver
Cuisine
Machine à café
Lave vaisselle
Electric Kettle
Cuisine Casher
Micro ondes
Four
Réfrigérateur
Cuisinière
Grille-pain
Divertissements
Câbles / Satellite
Lecteur DVD
Internet
Téléphone
TV
Internet sans fil
Méthodes de Paiement lors de votre arrivée
This host requires full payment in advance, that will be collected by Tellavista using credit card
The host's cancellation policy still applies.
Heure d'arrivée et heure de départ
Heure d'arrivée après 15:00
Heure de départ avant 12:00
Politique d'annulation: Standard
All cancellations are subject to handling fee equal to 10% of booking total.
In addition:
For cancellations 30 days or less before arrival, add 30% of booking total to the above.
For cancellations 7 days or less before arrival, add 50% of booking total to the above.
Read more about our cancellation policies