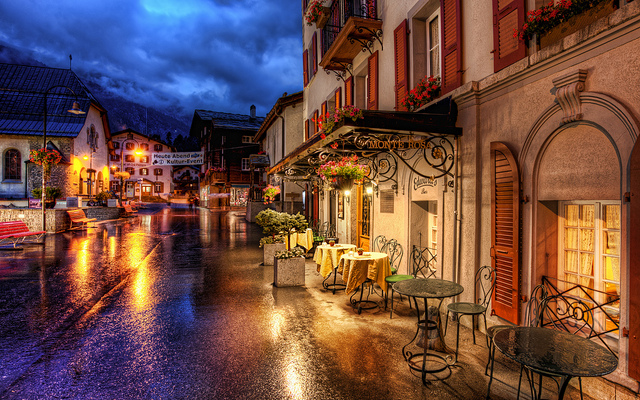 Photo by: Tray Ratcliff @ Flickr
Romance helps us overcome life's other distractions and lets us know that everything will be alright. When we look into each other's eyes and see deeper than the twinkling of the candle's flame between us, it is in that moment that we can truly connect with another human being. The time is right, vacation rental is done, the people are right… now all we need is a location. Here are five of the most romantic cities in the world. If you cannot fall in love here, you cannot fall in love at all.
If you were expecting Paris or Venice to be in the first and second position, we are happy to disappoint. While those two cities are definitely on every list of romantic cities you will ever come across, we are going to take it for granted that you know they go here and move on to other deserving locations. With that said, the top spot (Other than Paris and Venice) goes to…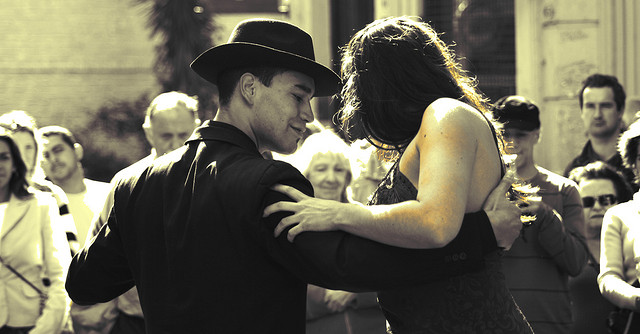 Photo by: Gustavo Brazalle @ Flickr
Buenos Aries
Walk down the street in Buenos Aries and you are just as likely to run into a street Tango performance as anything else. There is something seductive about the subdued but exciting night life in this city that makes you feel alive. It may be that the people of Buenos Aries are not putting on a show for tourists. They are simply living life. You might say that they are passionate about their passion. Lovers celebrate love in Buenos Aries by dancing in the streets… literally.
The paneling of Red and Gold lit by candlelight make the interior of Astrid and Gaston' Peruvian restaurant ooze romance. It is but one of the elegant and tasteful dining spots that lovers are drawn to in this, the city of love. Another romantic spot is the steak house called La Cabrera. The steak is so tender that it falls into slices if you wave your butter knife in front of it. If they have electricity… they do not use it for lighting as there are at least three dozen candles lighting the main dining room.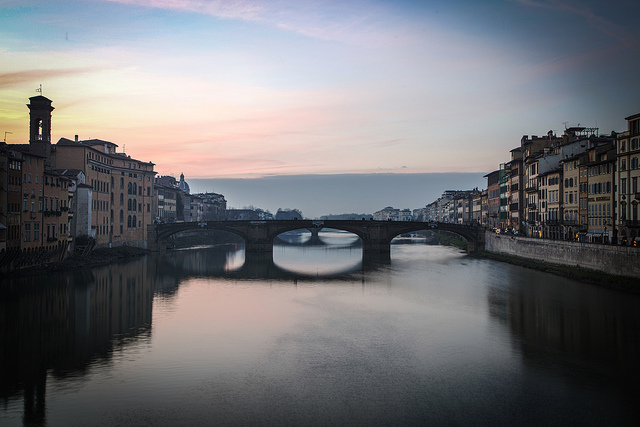 Photo by: DanMasa @ Flickr
Florence
If you have never been to Florence, you may want to prepare yourself mentally before you go. It is impossible to be in Florence and not be in love with someone. You have to go straight to the top of Duomo. Once your soul has drank its fill of the romantic ambiance of the city, go to Piazzale Michelangelo and hold your lover tight as you absorb the magnificent views. If you do these two things first… you realize just how insignificant everything except love is in this life and in this city.
The most romantic restaurant not only in Florence, but in Italy is the Taverna Del Bronzino. The moment you walk in the door… you instantly fall in love with the person next to you. That is how much romantic magic they have. Enjoy a complimentary glass of Prosecco and let its warmth lull you into a true sense of elegance.
You absolutely must try the Beef Tartar. It comes with a delightful truffle cream sauce that could be the specialty of the house, and ravioli w/spinach. The second time you go, you will be tempted to order it again, however, you will be doing yourself a grave injustice if you do not at least try the Steak Florentine and Demi-glace'.  It is to die for.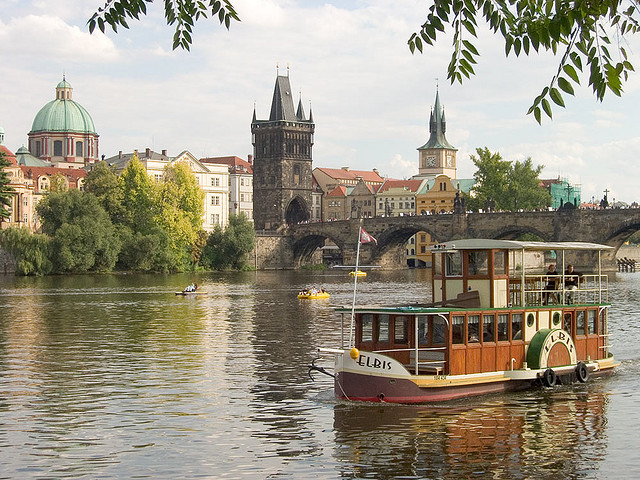 Photo by: David Blaikie @ Flickr
Prague
The only people who associate Prague with romance are the people who have actually been to Prague. In their minds it's… move over Paris and step aside Florence… Prague is the true romantic king. The first thing you realize is that the view from almost anywhere is magnificent. The views in Prague were made for the lover's eye. The central river literally flows with love and romance. Prague has the best wine anywhere. On the outskirts of Prague, there are countryside retreats and bed and breakfasts that will break your heart when leaving them.
From the grounds of the hillside castle to the walk across Charles Bridge… there is not a romantic moment that you could ever forget. The food is exquisite and later, when you try to decide which restaurant was the most romantic, well… you cannot. There are several places that are vying for that spot. A great restaurant is Vzatisi located in an awe inspiring part of Old Town that will take your breath away, and the only thing that will break your attention from these meandering streets is the excellent food they serve.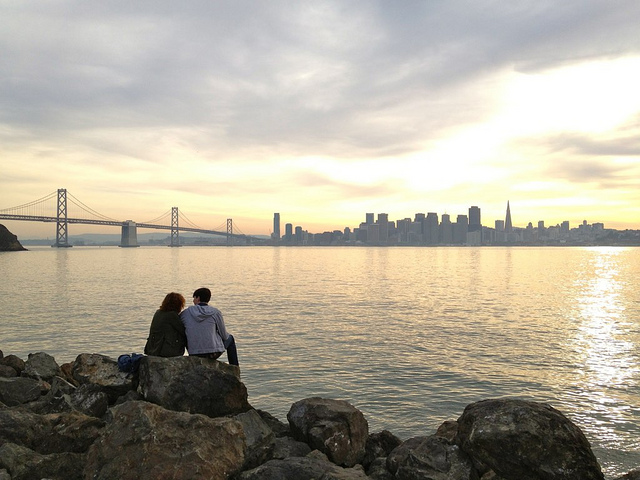 Photo by: Lynn Friedman @ Flickr
San Francisco
In San Francisco, winters and sunsets are forever intertwined in the lover's heart. In the summer, believe it or not, the fog that rolls in off the Bay is also one of the most romantic things you will experience in your lifetime. Take your lover's hand and view the San Francisco skyline from Treasure Island. When you do, it is like the universe has emptied out and you and your lover are the only two people left on the planet.
There is a restaurant right on the edge of the Bay Bridge that affords you and the one you love with a panoramic view of the bridge. It is by far the best place to have that special dinner of the evening. The restaurant is called Epic Roasthouse, if you are ever in San Francisco and want to give it a try.
San Francisco is filled with romantic restaurants, however, if you really want to fall in love… celebrate your passion at Café' Jacqueline. It is a bit hard to find so you must use your romance radar. It is tucked ever so quietly away in the deep recesses of an alley off of Grant Avenue.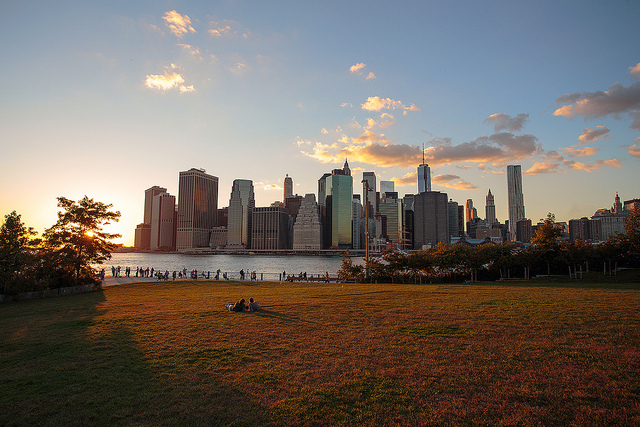 Photo by: Sebastian Anthony @ Flickr
New York (Of Course)
There are no little town blues when you are in the Big, Romantic Apple on a mission of love. If there were ever a city that was built for romance… it is the island of Manhattan. From the view atop the Empire State building to the magnificent hotels that are so akin to love. When you walk through Madison Square Garden, and the Metropolitan Opera House, you know that the person holding your hand must be special.
New York City is one big romantic restaurant. It is amazing how many romantic places to eat  you can find in the roughest and toughest city in the world. New Yorkers have seen it all and yet they still believe in love and do their best to ensure that you and your loved one have a night you will never forget. Take, for instance the romantically historic restaurant "One if by Land, Two if by Sea."
Since 1972, this cozy eatery with the big romantic fireplace has warmed our hearts and our bellies with some of the finest food the West Village has to offer. The baby Grand in the dining room has been played by some of the most famous people on the planet who just stopped in for a romantic bite. Elton John and Billy Joel have both been known to play a song or two while waiting for dessert. Who will play while you are falling in love?
For those who are not from New York and are visiting for Valentines, or any other romantic occasion, just finding good accommodations, a nice restaurant, and a great landmark to see will line up additional adventures you will probably come across in the way.